Activities
The most important activities in 2012
10 years of Help without Frontiers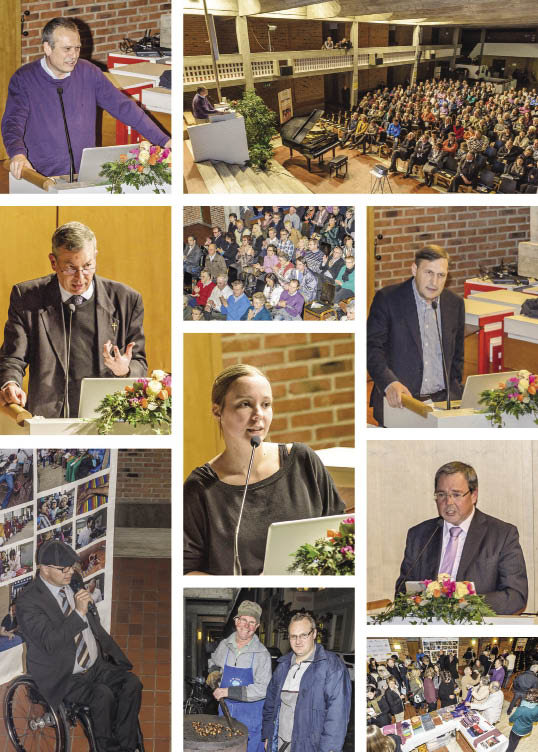 More than 200 guests attended our 10-year anniversary celebrations in the Cusanus Akademie in Brixen. The mayor of Brixen, Mr. Albert Pürgstaller welcomed the guests. Helmuth Wolf and Raimund Ausserhofer, longtime members and school adopters, explained about their experience with this direct form of help. Klaus Zoderer (20) from Schlanders told everyone about his unforgettable experience working as a volunteer for us in Mae Sot. Pictures and video clips to sum up the ten years were also shown.
It would have been impossible for us to organize this event from our own budget, therefore we would like to thank the following companies for their support: Weingut Alois Lageder, Clementi Elektro OHG, Faro Shopping, Restaurant Finsterwirt, Brauerei Forst, Gemeinde Brixen, Restaurant Grissino, Gasthof Haller, Hotel Hochrain, Interhotel, Microtec, OBI Baumärkte, Stuefer Bau GmbH, Tischlerei Oberhuber, Konditorei Pupp, Plose Quelle, Backstube Profanter, Metzgerei Schanung, Restaurant Traubenwirt, Weissenhof, Gardencenter Winkler, Zotter Schokoladen Manufaktur. A special thanks goes to Mrs. Elisa Wallnöfer for the musical entertainment, to Mr. Martin Mayr for the good chestnuts and to Mr. Georg Hofer for the pictures.
To celebrate our 10-year anniversary the students from the Franziskanergymnasium in Bozen organized a charity concert "Rock no Border.' 300 people attended, 8 bands with more than 40 musicians played for Help without Frontiers. Our projects were presented during the breaks. More than 1.200 Euros were collected during this event.
Public Relations
Benno Röggla was guest in the Dolomiten magazine's "Sonntagsfrühstück" and the Radio station "Südtirol 1". He was also elected "head of the week" by the "Tageszeitung" newspaper. The Kiwanis Club Meran awarded Benno Röggla the prize for humanity (Preis für Menschlichkeit) which also came with a 10.000 Euro donation. It was a positive surprise for us that the South Tyrolean weekly magazine FF gave Benno Röggla third place in the category of Society, after Markus Lanz and Reinhold Messner.
Presentations
We have been guests at 44 events, had 27 presentations and reached 6.630 people. We gave 11 presentations in different schools in South Tyrol, as well as at the Kiwanis Club Meran, the "Think more about" congress in Brixen, at the SSV Taufers sports competition, the Pfadfinder in Taufers and the Mütterrunde in Brixen.
In total we earned nearly 4.050 Euro for our administration and received nearly 70.700 Euro donations during those events.
Weingut Lageder: "Summa 12" and "Vin-O-Ton"
The winery Lageder collected money for us during their wine fairs "Summa 2012" and "Vin-O-Ton". This money is to go towards the school adoption of New Day School and part of the Rays of Youth music project. During these events a total of around 35.300 Euro were collected.
Eat. Buy. Do Good!
Under this motto 43 South Tyrolean companies contributed to our 'meals for schools' project. During the Christmas period various companies gave a specified amount from a certain product or food item that they sold, or donated a percentage of their sales. Altogether this amounted to about 22.600 Euros.
A list of the participating companies can be found on our homepage. Alchemilla, Konditorei Alex, Hotel am Brunnen, AutoSigi Covi, Bikeshop Engl, Boutique Mareny, Carpe Vitam, Die neue Südtiroler Tageszeitung, Dogat Paradies für Haustiere Bozen, Dogat Paradies für Haustiere Meran, Enovit Vinoteque, Filmclub Bozen, Granel, Galerie Hofburg – Kompatscher, Hotel Grüner Baum Stremitzer, Hotel Restaurant & Bar Laurin, Hotel Restaurant Schönblick – Belvedere, Raststätte Lanz, Elektro Lutz, Nordwal Colors Auer, Nordwal Colors Bozen, Nordwal Colors Bruneck, Nordwal Colors Meran, Nordwal Colors Trient, Northland Store Brixen, Northland Store Bozen, Despar Pircher, Reform Natura, Restaurant Finsterwirt, Restaurant Zum Turm, Immobilien Sader, Metzgerei Schanung, Gärtnerei Schullian, Süßwaren Seebacher, Pizzeria Trametsch, Triade SuperBio Bozen, Triade SuperBio Kaltern, Triade Super-Bio Neumarkt, Weinschenke Vineria Paradeis, Vitalis Dr. Joseph, Voodoo Store, Druckerei Weger, Weingalerie, WeWa Markt, Gardencenter Winkler.
Soup Sunday
Soup Sundays were organized for us by the Katholischer Familienverband in Tiers. We were able to collect 1.500 Euro for "yummy! Meals for schools" and for our Rays of Hope schools. Thanks!
Celebrations and Festivals
The organizers of the following events took the chance to collect donations for us: Rock in Dusty Valley, the birthday celebration of Zeno Kerschbaumer, birthday celebration of Christoph Tscholl, summer festival of Mr. Hellweger, August flea market, Mütterrunde Brixen and the Prom party of the Franziskanergymnasium. We are very thankful for this support. We received a total of over 18.850 Euro donations.
Week of Hope
The four volunteers from Vinschgau, Hannah Bernhard, Alexander Stecher, Thomas Öggl and Klaus Zoderer, who spent some time with us in Mae Sot last year, decided to organize the second edition of their 'Week of Hope' festival in Schlanders. From presentations, a photo exhibition and the charity concert, they collected 1.100 Euro.
Christmas market at the "Goller" primary school
The famous children's books author Pia Pedevilla organized handicraft courses for the teachers of the "Goller" primary school. Together with the students they did handicrafts which they sold at the Christmas market of the school and collected 2.650 Euros.
Christmas Cards
This year we printed Christmas cards again, designed partly by South Tyrolean artists. This year we got new motifs from Gaspare Bruccoleri, Claudio Olivotto, Martin Rainer and Pia Pedevilla. We thank the company Wolf Windows, especially Sonja Wild, who has been doing the management, including delivery and accounting since many years. We also thank the printing company Weger for their help. We managed to sell a total of 8.253 cards.
Music unites
The South Tyrolean Youth Symphony orchestra, under the direction of Stephen Lloyd, has been supporting the music project of our "Rays of Youth" team since three years. During their two closing concerts donations were collected. We are thankful for approx. 3.200 Euro.
Under the direction of Bruno Gius, the Auludis Gospel Choir celebrated its 20-year anniversary and for the third time collected donations for the refugees from Burma. The event was a huge success and we received 1.100 Euros.
The event Musical School 2012, organized by the youth centre "Papperlapapp" took place in Bozen. The students from the Musical School donated 1 Euro from every entry ticket and this way managed to collect 750 Euros.
The music class in the Fritz Ebner Middle School in Schlanders collected donations for us during their Christmas concert and the amount came to 2.300 Euro for our Ray of Hope Schools.
Carnival time in Bruneck
The childrens carnival was organized by Stadtmarketing Bruneck, together with other organizations, which take care of children. All donations, altogether over 1.600 Euro, were given to our organization. The students of the Bruneck vocational school also took part and gave make-up tips.
Visitors and Volunteers
All together we had 23 people volunteering for us in Mae Sot, 10 of them came from South Tyrol. On top of this, we had 16 visitors from 5 countries.